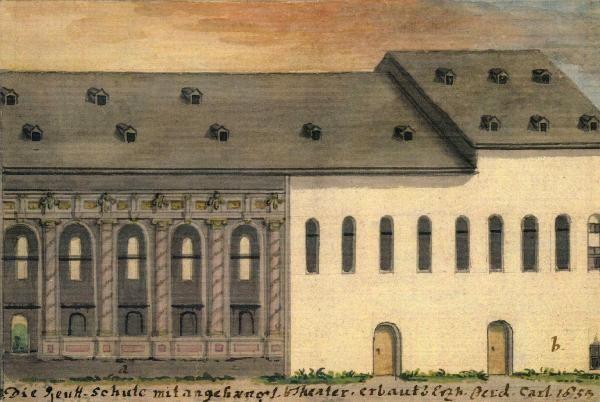 Das alte Hoftheater (Dogana), schematische Zeichnung von Josef Strickner, um 1800.
Nordtrakt, links mit Durchsicht in das Innere, rechts Außenfront mit Bühnentrakt

The old court theater in Innsbruck (Dogana, i.e. later used as a tollhouse), schematic drawing by Josef Strickner, about 1800.
North wing, showing a view of the interior on the left and the façade with the stage house on the right.
12. Das erste Opernhaus im deutschen Sprachraum stand in Innsbruck
Das neue Hoftheater (Komödienhaus) am Rennweg,
an der Stelle des heutigen Tiroler Landestheater.
Rechts das Redoutengebäude (1772/73) heute Stadtsäle.
Nach einer Zeichnung von Josef Strickner, 1801

The new court theater (Komödienhaus) on the Rennweg,
on the site of today's Tiroler Landestheater (Tyrolean National Theater)
Right: ball room (1772/73), today the municipal hall
From a drawing by Josef Strickner, 1801
In Innsbruck wurden bereits im frühen 17. Jahrhundert Opern aufgeführt. Zu dieser Zeit diente das von Erzherzog Ferdinand um 1584 erbaute Ballspielhaus als Theater. Der gewaltige Bau hatte eine Länge von hundert Metern, eine Breite von dreißig Metern und eine Höhe von zwölf Metern. Die Bühne war mit allen nur erdenklichen technischen Einrichtungen ausgestattet, so dass auch künstliche Seen und andere optische Ereignisse von wunderbarer Größe inszeniert werden konnten. Dieses alte Hoftheater wurde 1944 durch Bomben weitgehend zerstört. Wegen seiner Übergröße mit einem Fassungsraum für mehrere tausend Personen wurde das alte Komödienhaus schon um die Mitte des 17. Jahrhunderts als Ort der Oper und des Schauspiels aufgelassen und für eine Reitschule adaptiert. Erzherzog Ferdinand Karl ließ nach venezianischem Vorbild ein neues Opernhaus mit wesentlich intimeren Dimensionen, aber gediegener Ausstattung mit vielen Maschinen bauen, die alles aufbot, was man von einem modernen Theater erwarten konnte. Dieses nach zeitgenössischen Berichten überaus prunkvolle Haus wurde 1654 mit der Oper La Cleopatra eröffnet. Als Komponist war damals der weltberühmte Marc Antonio Cesti in Innsbruck angestellt, der für das neue Haus eine Vielzahl seiner besten Werke komponierte. Cestis Wertschätzung als Komponist ermisst man am besten daran, dass er als Franziskaner nicht in einem Kloster wohnte, sondern in einem Palast residierte, den ihm der Tiroler Landesfürst geschenkt hatte und der später als Landhaus verwendet wurde. Nach Auflösung der Innsbrucker Hofhaltung - die Tiroler Linie der Habsburger war mit dem Tod von Erzherzog Siegmund Franz ausgestorben - wurde zunächst auch die Hofmusik eingestellt. Cesti, der mehr als ein Jahrzehnt in Innsbruck verbracht hatte, verließ die ihm liebgewordene Stadt nur widerwillig, um in Wien in den Dienst des Kaisers zu treten. Das neue Innsbrucker Komödienhaus war das erste freistehende Operntheater des deutschen Sprachgebiets, aber auch die erste deutsche Bühne mit einem festangestellten Personal, sowohl für die Oper als auch für Komödien, d.h. Schauspiele und Singspiele.

12. Innsbruck Had the First Opera House in a German-Speaking Area

Operas had already been performed in Innsbruck in the early 17th century. Serving as a theater at that time was the Ballspielhaus, a recreation and entertainment hall that Archduke Ferdinand had built around 1584. The huge building was a hundred meters long, thirty meters wide and twelve meters high. The stage was furnished with all manner of technical equipment, allowing artificial lakes and other spectacles to be staged on an amazing scale. This old court theater was largely destroyed by bombs in 1944. Because of its oversized capacity, seating an audience of several thousand, the old opera house already ceased to be a venue for opera and theater around the mid-17th century and was converted into a riding school. Archduke Ferdinand Karl had a new opera house built according to Venetian models. It had considerably more intimate dimensions but was furnished with distinction and "many machines" that provided everything one could expect of a modern theater. This utterly splendid building, according to contemporary reports, was inaugurated with the opera "La Cleopatra" in 1654. Employed in Innsbruck as a composer was Marc Antonio Cesti, world famous at the time, who composed a large number his best works for the new opera house. The high esteem in which Cesti was held can best be appreciated by the fact that although he was a Franciscan he did not live in the monastery but in a palazzo given to him by the Tyrolean ruler and later used as a country seat. After the Innsbruck royal household was disbanded - the Tyrolean line of the Habsburgs became extinct with the death of Archduke Sigmund Franz - music at court was at first suspended as well. Cesti, who had spent over a decade in Innsbruck, only reluctantly left the city he had become attached to when he entered into the Emperor's service in Vienna. The new Innsbruck Komödienhaus was not only the first detached opera house in the German-speaking world but also the first German stage that employed salaried personnel for both opera and theater, i.e., drama and Singspiele (spoken dialogues with interpolated songs).